P25 digital frequencies change

(Added 11/12/14)
The P25 digital site that has been setup to allow agencies to test their P25 equipment has had a change of control channel frequencies. A number of additional voice frequencies have also been added.
Depending on which existing GRN talkgroups are patched into the system, the site can be quite busy during the day with voice traffic. An updated talkgroup list is now available here.
| | |
| --- | --- |
| Frequency | Use |
| 413.275 mhz | Backup C.C. |
| 414.775 mhz | Backup C.C. |
| 414.9625 mhz | Voice |
| 415.1125 mhz | Voice |
| 420.250 mhz | Control Channel |
| 420.500 mhz | Voice |
| 421.500 mhz | Backup C.C. |
| 421.750 mhz | Voice |
---
SA Ambulance to start using digital encryption

(Added 5/11/14)
The SA Ambulance Service will change to digitally encrypted talkgroups on the evening of the 11/11/14. The change will mean that there will be no way for SA Ambulance transmissions to be monitored on a scanner.
This will also affect all other Health Department agencies, including the Rescue Helicopter service and all hospitals.
---
P25 digital SA-GRN site now active

(Added 25/10/14)
A P25 digital site has been established on the State Administration Centre building near Victoria Square in Adelaide.
This site has been setup to allow agencies to test the digital capabilites of their SA-GRN terminal equipment, and has coverage across the city and surrounding suburbs.
Many agencies have patched their existing analog talkgroups into the new digital talkgroups to allow testing through this site.
To monitor this system on a Uniden digital trunking scanner, just setup a new P25 'Standard Trunk' system, and create a new site in that system with the frequency 413.275mhz. No other frequencies or base and offset data is required to monitor this system.
The Metropolitan Fire Service metropolitan operations talkgroup 150 has recently been heard on the P25 site using on ID 694. The Dept. of Environment have been heard on talkgroup ID 3169.
Please advise us via SA-Scan@yahoogroups.com if you identify any further new talkgroups.
| | |
| --- | --- |
| Frequency | Use |
| 413.275mhz | Control Channel |
| 414.775mhz | Backup C.C. |
| 414.9625mhz | Voice |
| 415.1125 | Voice |
---
Clipsal 500 Live Audio Feed

(Added 27/2/14)
This is a feed of the Motorola DMR Trunking network being used by the organisers of the Clipsal 500 V8 motor race in Adelaide, South Australia.

The feed is running off a RTL28232U dongle connected to the SDR# software, which is feeding the DSD+ program to do the digital audio decoding. The audio you hear may sound slightly muffled, this is a product of the digital decoding and is probably as good as it is going to get at the moment.
As this is a trunking feed you will hear everything on the network, this includes all of the Race Control radios on the track, as well as the secondary support services that are involved in keeping an event like this running.
There is no control over the talkgroups, and their is no tags on this feed - it is audio only.
The feed will run from Thursday, until the end of the race on Sunday.
More information about the race can be found at - http://www.clipsal500.com.au/
---
Uniden to release two new trunking scanners

(Added 4/12/13)
Uniden in the United States recently released details on two new trunk tracking scanners which are expected to be available in January 2014.
The two new scanners are the BCD536HP base / desktop unit and the BCD436HP portable unit.
Both of these radios will work on the following modes - TrunkTracker V with support for APCO Project 25 Phase I and Phase II, X2-TDMA, Motorola, EDACS, and LTR Trunked Radio System.
This means that these radios will correctly scan the SAGRN, and should continue to work if the network is upgraded to become a Phase II trunking system. However these radios will not work on the ever increasingly popular Motorola DMR mode. The DMR systems in South Australia are now carrying a lot of commercial user radio traffic after the Motorola 800mhz systems were shutdown, with DMR now being utilised for a number of our major events in this state (Clipsal 500, Adelaide Oval, major festivals etc)
Uniden have hinted that software and firmware upgrades will be possible with these radios, with a possible inclusion of further modes in the future. We can only hope that DMR is one of the modes they are looking at.
Regardless of the lack of DMR compatibility, these new scanners are still a very nice radio, with plenty of features to keep people interested. The ability to record transmissions directly to an SD card in the radio is very handy, as is the ability to stream your radio through a WIFI connection via an app to anywhere in the world.
It is unknown whether Uniden in Australia have any plans to release an Australian model of these scanners, however the US models will work on our SAGRN system.
US Pricing is listed as:
BCD436HP - $499
BCD536HP - $599
In another interesting development, Whistler Electronics - who recently purchased GRE Electronics have announced that they will also be releasing a number of new scanners in 2014, suggesting that they will be actively looking at ways to monitor some of the new technology modes. Either way it is good news for scanner users, who have been left with little choice of late when it comes to digital trunking scanners.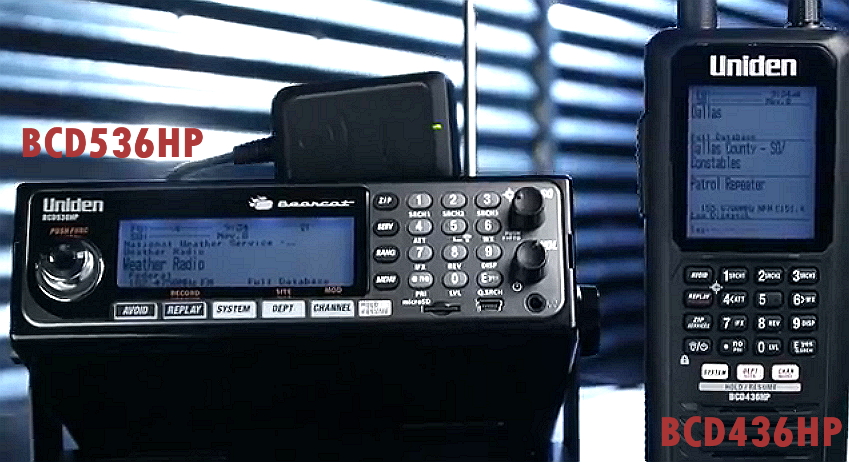 Uniden Product Launch video