South Australia Police (SAPOL)
Information
The South Australian Police Department operates a combination of voice and data for despatch and response to taskings.
The SA Police previously used the Australian wide standard 64 UHF channels for most communications, however as of 0400 on Tuesday the 10th of December 2002 the police switched all operations to the SAGRN using digital radios and full encryption on all talkgroups. The digitally encrypted radios prevent scanner listeners from monitoring police transmissions. The communications centre also relocated from the second floor of the Carrington street building to a new facility built on the first floor in the old State Emergency Operations Centre (SEOC) room. The SEOC facility was moved to level two in Carrington street.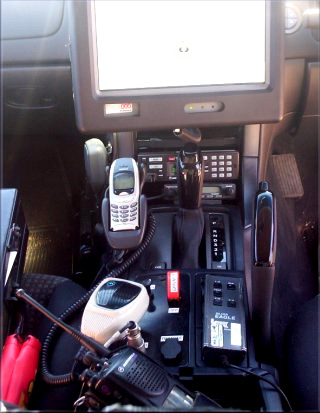 The SA police began using the SAGRN in September 2000, with some country areas and metropolitan divisions (Transit, Star Division) being used to trial the network, since then the entire service has now transitioned to the SAGRN. Initially problems were found with coverage, digital readability and batteries not lasting very long on portable radios, however many of these problems have now been resolved and the SA police department now has a high degree of confidence in the network.
Some UHF repeater sites still remain licensced to SAPOL, and it is possible that these will remain in place as a backup to the SAGRN. However there is currently little, if any activity on the UHF frequencies.
SAGRN - Voice
SAPOL use three radios on the SAGRN, they are the Spectra W3 mobile, Spectra W7 mobile, XTS 5000 portable. The RCH3000 desktop controller is used in fixed locations and is connected to a Spectra W7 radio. Each radio is programmed with the standard configuration of SAPOL talkgroups however the portable and mobiles have slightly different capabilities for an in vehicle repeater.
Each SAPOL radio has a number of features, private call, page alert and telephone interconnect are all used regularly by patrols.
Private calls allow one radio to discretely communicate with another radio without other users hearing them, this does take that radio off of their operational talkgroup though and means they cannot be contacted by the dispatcher.
The page function is used to alert another radio that someone is trying to contact them, the receiving radio will beep and display the ID number of the radio trying to call them.
Telephone interconnect allows users to make telephone calls from their radio. General patrols are limited in their telephone capabilities as they are only allowed to call specific SAPOL numbers already programmed into the radio, supervisors have the ability to enter any telephone number and make a call.
Dispatchers have the ability using Motorola Centracom consoles to patch talkgroups together to form a 'Dispatch Group'. This is used to connect each LSA's primary and secondary talkgroup together e.g. MG1 ADELAIDE patches the primary talkgroup Adelaide 83 and the secondary talkgroup Adelaide 84 together. By doing this the comcen can then have the primary talkgroup and secondary talkgroup selected on their console however the volume on the secondary talkgroup would be turned down, this allows patrols to use the secondary talkgroup as a 'local/chat' mode without the dispatcher hearing them but the patrols can still hear the comcen.
Dispatch Group Configuration
| | | | |
| --- | --- | --- | --- |
| Dispatch Group | LSA | Primary Talkgroup | Secondary Talkgroup |
| MG1 | Adelaide | 83 | 84 |
| MG2 | Elizabeth | 60 | 61 |
| MG3 | Holden Hill | 56 | 57 |
| MG4 | Port Adelaide | 58 | 59 |
| MG5 | South Coast | 87 | 88 |
| MG6 | Sturt | 85 | 86 |
| MG7 | Barossa Yorke | 62 | 63 |
| MG8 | Far North | 70 | 71 |
| MG9 | Hills Murray | 89 | 90 |
| MG10 | Mid West | 78 | 79 |
| MG11 | North East | 66 | 67 |
| MG12 | Riverland | 93 | 94 |
| MG13 | South East | 97 | 98 |
| MG14 | West Coast | 74 | 75 |
| | |
| --- | --- |
| | |
| Spectra W7 Mobile Radio | RCH 3000 Desktop Controller |
| | |
| Spectra W3 Mobile Radio | XTS 5000 Portable Radio |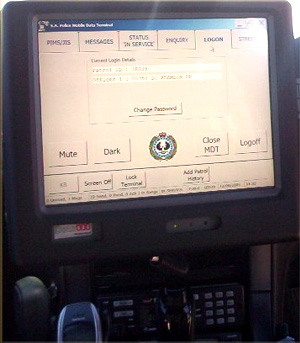 SAGRN - Data
Many SAPOL vehicles are fitted with a laptop style Mobile Data Terminal (MDT). The MDT is commonly used for receiving taskings, sending messages to other staff, conducting checks on vehicles / people and providing status updates and mapping. The system operates on the SAGRN 800mhz network utilising 19200kbps RDLAP mobile data technology. The coverage of this system extends from the metropolitan area through to a large section of rural South Australia. A slow speed data network using the SAGRN voice network frequencies is also available where the 800mhz network coverage doesn't exist.