South Australian Metropolitan Fire Service (SAMFS)
The SA Metropolitan Fire Service (SAMFS) uses the SAGRN for all voice transmissions throughout South Australia. Its communications centre (call sign Adelaide Fire) is located in the MFS Adelaide Headquarters building and handles all call receipt and dispatch functions for all MFS and CFS brigades as well as all SES units throughout South Australia. Operators also control traffic lights in the central business district of Adelaide and dispatch keys required to gain access to city buildings.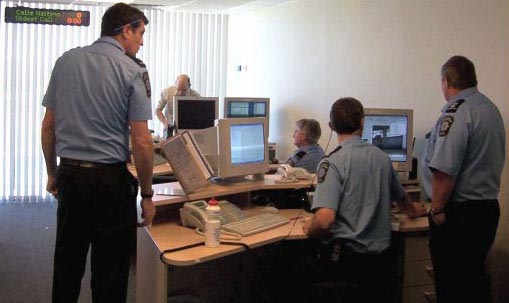 Temporary MFS Communications Centre
Metropolitan fire appliances use a computer terminal mounted in the vehicle for receiving information on incidents and also for sending status messages. Station turnout is achieved through pager messages sent to fire station terminals, these activate a fire station alerting system and convert the text to voice for readout in the station.
The MFS has fire stations in many larger country towns, they rely on retained firefighters who are required to carry SAGRN pagers for incident notification. All emergency telephone calls are relayed through to the Adelaide communications centre where details are taken and a pager message is sent to the appropriate fire fighters.
Appliances transmit messages to the communications centre on the statewide talkgroup 150-MFS-STR
P25 UHF Simplex channels and additional talkgroups are utilised for fire-ground communications.
P25 Tactical / Fireground channels
| | | |
| --- | --- | --- |
| Channel | Frequency | NAC |
| 181 | 462.0375 | 181 |
| 182 | 415.475 | 182 |
| 183 | 422.6375 | 183 |
| 184 | 422.8875 | 184 |
| 185 | 426.0375 | 185 |
| 186 | 426.2875 | 186 |
| 187 | 415.475 | 187 |
| 188 | 422.6375 | 188 |
| 189 | 422.8875 | 189 |
| 190 | 426.0375 | 190 |
| 191 | 426.2875 | 191 |